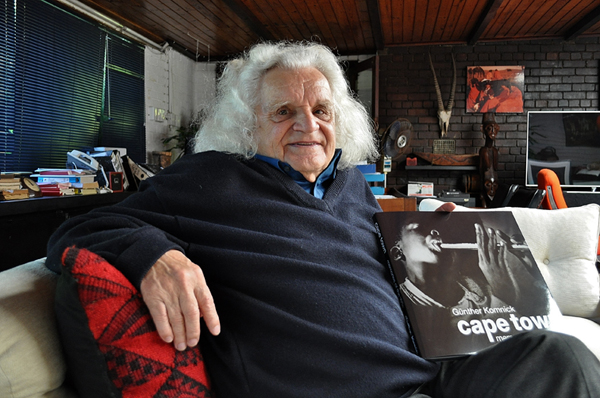 Above: G√ľnther Komnick, at home in Pinelands
Left: An image from G√ľnther's book Cape Town, Memories of the 60s taken in District 6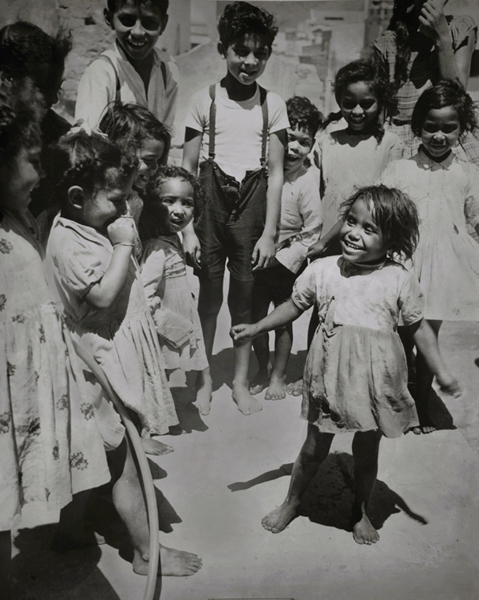 G√ľnther Komnick's preferred language is photography.
Here, in the shifting sea of images he has captured over his 84 years to date, lies his eloquence, his penchance for subtlety, for refined expression.
Here, is found the vibrance of life, the moods that mark a moment, the membrane of memory.
And here is an exhibition of work - diamonds of a by-gone age - that set the scene of the 60s in the streets of Bo-Kaap and District 6.
The collection will be open to the public until Friday October 11 at the Erdmann Contemporary Gallery, 63 Shortmarket Street.
It shines with languid late afternoons and sun-lit laughter. Even as a young man, Gunther possessed the capacity to capure people at their most natural, most unaffected. The black and white cameos are a keen, never-before-seen glimpse into everyday lives, lived with immense heart and resilience.
One can just about hear the jazz drift down the cobbled streets or the shrill whistles of the Minstrels, and feel the moment in the passing flash of smiles.
This exhibition is part of a body of work in a book he has self published, and dedicated to his beloved wife, Lila. Cape Town, Memories of the 60s is a treasure trove of Cape Town's most tender history...life, before forced removals.
Having just arrived in Cape Town from Johannesburg in 1958, Gunther was enchanted by the vibrance of the local people and took to the streets with a Hasselblad camera. The photos were found last year by a friend of his, Gavin Furlonger, stuffed into a suitcase in Gunther's home.
"These are the only photos that survived. I took thousands," Gunther says. The negatives were stored in a cupboard, and during a move, they and the cupboard they were in, were inexplicably lost. He shrugs. Gunther has learned to let go. "Such is life," he smiles.
Born to a cultured family of artists in East Prussia, Gunther's life was radically upended when he, his mother and his younger sister were interned in a Russian labour camp. They spent three years, exposed to unspeakable trauma.
"Every day, you did not know if you would survive. Terrible things happened, right in front of us. We lost everything. To come from somewhere, to have your education stolen, to have nothing..this makes you see differently," he says."It is also where my drive stems from."
His drive, and also his deep appreciation and photographic articulation of people's resilience, their courage, their joy - despite the difficulty of their circumstances.
This is something that Gunther innately relates to. He and his family escaped the labour camp, and became refugees, eventually ending up in Johannesburg, where hard work, and a lot of it, eventuated in his study of graphic design.
"When you travel, it deepens your understanding of people, of their cultures. What everybody has in common, is that it is all about survival. There, people fish. There, they weave baskets to sell. Survival drives all of these activities," he says, while we page through his previous coffee table book, Impressions. From exotic red earth, snakes, tribal ceremonies, dancing, to the everyday pleasures - children playing, friends, talking, cooking.. he has brought to light numinous nuances across many continents.
Gunther may have seen some of the worst that there is to experience. But he has placed his focus, on the beauty. He says he thinks of his art as that - as others pick up a brush, he picks up his camera.
And Gunther is still as impelled by that drive today, as the first time he held one. Although he has moved from Brown box cameras to the Hasselblad, to his choice today of the digital Nikon D800 - always - on manual settings. "I don't like the automatic settings. That tells you what the camera sees, but when I look, that's not how I feel."
In the past two years, he has travelled Morrocco, India, China, Vietnam, Peru - and each of these will be immortalized through his lens in a self published book.
"I may not have long left, but the drive is still in me. I want to put together as much as I can, while I can."
He's also illustrated a host of children's books with characters which bristle with life.
Immersed in his photos, I ask if there's ever been a missed opportunity that he still thinks about. He laughs immediately. "Once in Eqypt, at a petrol station, there was a man with a donkey, refuelling. Strapped to the donkey's back were tanks that he was filling with petrol. I still laugh when I think of that. Just didn't have my camera that day!"
He recounts another incident on the Skeleton Coast, lost to all but his memory - except now.
"There was a beached whale, it had died, and as we drove, we saw a whole army of giant crabs, walking upright out of the sea, towards the whale. I did shoot it, I was carrying my Hassleblad with a big magazine of 75 shots.. and I shot them all, and the dunes and everything, but then I realized in the end that I was still shooting, past 75 shots. The film had not wound on," he says, shaking his head. "That was a once in a lifetime thing."
Again, though, he gives a shrug and smile. He's surrounded by the shots he did get. He has a wife he adores, a back garden of fern heaven. And there's a world out there, with things only he will see, just waiting for him.
Do yourself a favour, and visit the exhibition to see the world through Gunther's eyes.