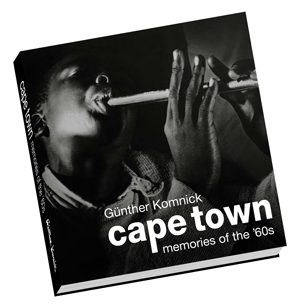 Publication Specifications:
Printed (First Edition): 2013
ISBN 978-0-620-54655-3
Size: 305mm x 305mm
English
160 pages
Hard Cover, stitch bound
Moments of joy that filled the streets of Cape Town - memories of the '60s
Award-winning photographer and graphic artist Günther Komnick's latest publication is Cape Town Memories of the '60s - a collection of evocative images of life in Cape Town's Bo-Kaap and District Six fifty years ago.
Walking the cobbled streets with his camera at that time, he focused on the vibrant everyday existence of the people who called the heart of Cape Town their home. As South Africa's political storms were raging, they strove to continue their everyday existence in peace and harmony: women hanging out their washing, men having a haircut, children playing games.
This collection of never-before-seen black and white photographs captures the essence of a long gone but treasured era, and honours the indomitable spirit of the people depicted.
Click here to view a few sample photographs from the book.
To enquire about purchasing
Cape Town Memories of the '60s
or to contact us please click here.
International orders are welcome
Price: R400 (excl Shipping)
Select your exchange rate:
EURO | USD | GB POUND