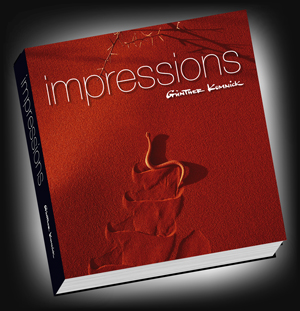 Publication Specifications:
Printed (First Edition): Early 2009
ISBN 978-0-620-39468-0
Size: 305mm x 305mm
English & German
468 pages
Hard Cover, stitch bound
With IMPRESSIONS, award-winning photographer and graphic artist G√ľnther Komnick has brought together 50 years of masterful photography. Since the 1960s he has traveled extensively in Southern Africa, while Egypt, the Middle East and Zanzibar were more recent destinations. It is from this archive, built up over five decades, that he presents a selection for your enjoyment.

IMPRESSIONS captures a quietude and timelessness that has very little to do with our modern, technologically-driven lifestyles. It is a celebration of colour and composition that is honest yet kind, thoughtful yet joyous.

Turn the pages of this book and escape into a world quite different from your own. Travel from the ancient heritage and stark landscapes of Egypt, Jordan and Syria, to the energetic fusion of South Africa; from the austere beauty of Namibia to the exotic allure of Zanzibar. It is into this world that G√ľnther, via his eye and his camera, warmly welcomes you.


To enquire about purchasing IMPRESSIONS
or to contact us please click here.
International orders are welcome
Price: R1,083 (excl Shipping)
Select your exchange rate:
EURO | USD | GB POUND
The Collector's Edition is now available - Leather Bound and Gold Embossed,
in a Slipcase.
Price: R5,000 (excl VAT & Shipping)
Select your exchange rate:
EURO | USD | GB POUND