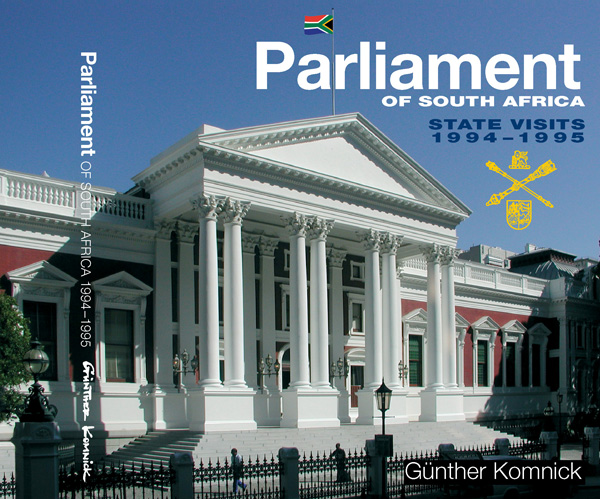 This historically significant volume by GĆ¼nther Komnick is one of its kind in that it calls forth the halcyon days of post-apartheid South Africa. This volume is more than a souvenir; it is emblematic of a period in South Africa, the Mandela years and the years of the Government of National Unity (GNU), a time when South Africa was "the darlingā€¯ of the world. Years of isolation and South Africaā€™s pariah status had come to an end, and as the book records, some of the world leading heads of state came to the South African Parliament on state visits, to share in the optimism and euphoria of those years. From Ingvar Carlsson, the then Prime Minister of Sweden, to more controversial leaders such as Robert Mugabe, of Zimbabwe; from FranƧois Mitterrand, the very influential French socialist president who visited in July 1994, to Britainā€™s Conservative prime minister, John Major; from Joaquim Chissano of Mozambique, culminating in the visit by H.M. Queen Elizabeth II. All came to Cape Town to bestow legitimacy on South Africaā€™s new political order.
Other figures featured in this unique volume include Dr Frene Ginwala, the then Speaker of the House of Assembly, Archbishop Desmond Tutu, and the late Steve Tshwete, a minister in Nelson Mandelaā€™s Cabinet. Mandelaā€™s successor Thabo Mbeki is also in the group pictures and so too the present incumbent of South Africaā€™s highest office, Cyril Ramaphosa. Also to be seen are F.W. De Klerk, whose momentous political courage brought an end to apartheid, and Kobie Coetsee, a former minister of justice who was instrumental in negotiating the conditions for the release from prison of Nelson Mandela, as head of the African National Congress. Komnickā€™s archive of images reflect "Rainbow-ismā€¯ at its zenith, namely the idea of reconciliation and peaceful coexistence, that had been bedevilled by decades of forced segregation and oppression of South Africaā€™s black majority.
When viewing these images from the vantage point of two decades or more later, it is perhaps all too easy to forget the symbolic value that the images represent. They may come across as examples of naĆÆve idealism, in light of what the subsequent presidencies of South Africa have taught us. Yet, the nature of the photographs enjoin the viewer to remember the ideals, if not the ingenuousness, that heralded the "New South Africaā€¯. And, perhaps too, the images evoke a shared obligation to keep the hopes echoed in these photographs alive.
Dr Wilhelm Snyman, Auckland, New Zealand, 2018